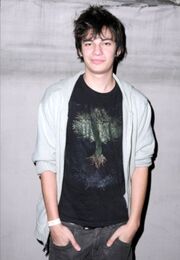 Aaron Levi Roberts is a Muggle-born, and former Hufflepuff.
Aaron was born 31 October, 2059, to two Muggles, Caleb Roberts and Ethel Roberts née Cohen. He has an older brother, David Caleb Roberts, two younger sisters, Sarah Leah Roberts and Hanna Evi Roberts and one younger brother named Daniel Jorah Roberts.
Aaron and his older brother didn't get along too well when Aaron was younger. He once changed David's hair blue by accident, but now that the family knows about his magic they get along better.
The family lives in a small town in the south-west of England, Silverton, a place Aaron doesn't like much because nothing exciting ever happens there.
Ad blocker interference detected!
Wikia is a free-to-use site that makes money from advertising. We have a modified experience for viewers using ad blockers

Wikia is not accessible if you've made further modifications. Remove the custom ad blocker rule(s) and the page will load as expected.