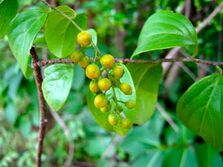 The climbing plant Cocculus or Indicus was first introduced by Professor Cleo Virohsa during Term 14.  The ash-colored plant with heart-shaped leaves has poisonous fruit and should be handled carefully.
Uses
The fruit of this plant is known to be poisonous, due to the high concentration of picrotoxin.
These berries can be dried and powdered, and are used primarily to kill lice, to stun fish when fishing, or as an antidote for morphine.
Ad blocker interference detected!
Wikia is a free-to-use site that makes money from advertising. We have a modified experience for viewers using ad blockers

Wikia is not accessible if you've made further modifications. Remove the custom ad blocker rule(s) and the page will load as expected.