Appleby Arrows

Robes

Pale blue with a silver arrow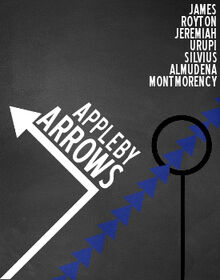 The Appleby Arrows is a team in the British and Irish Quidditch League.  The team is located out of Appleby-in-Westmorland, Cumbria.
Current Roster
Former Players
Drake Warren, beater (?-2069)
Paris Greenwood, chaser (2073-2075)
Erin James, chaser (2066-2078)
Becca Parker, keeper (2076-2080)
Teodoro Silvius, beater (? - 2084)
Isabel Almudena, beater (? - 2085)
Adelaide Adams, beater (? - 2088)
Maximus James, keeper (2080 - 2090)
Erin James, manager (2081 - 2090)
Jack Lockhart, scout (? - 2090)
Ad blocker interference detected!
Wikia is a free-to-use site that makes money from advertising. We have a modified experience for viewers using ad blockers

Wikia is not accessible if you've made further modifications. Remove the custom ad blocker rule(s) and the page will load as expected.