Brodie is a Hufflepuff graduate of Hogwarts. He was born June 1, 2064, and is currently 19 years old. He attended Hogwarts for two years. Outside of school he actually lived in the woods, seeing how his parents kicked him out. He's a songwriter and drummer for his band 'Maximum Seven' that is made up of his closest friends he's had since he was in diapers.
Now out of Hogwarts Brodie lives with his wife Rachel Livingston and is preparing for his daughter Josephine Violet. He works at a muggle superstore just as a store clerk, but hopes to become a performer and songwriter.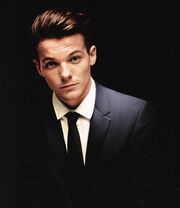 Enjoyable Things
Writing, drawing, messing around with my friends, drumming, playing the guitar, and getting to actually sleep on something besides a bunch of roots.
Best Friends/ Worst Enemies
Taylor Belle McIntyre- His ex-girlfriend, and sorta friend that talks to him on and off again
Vincent Theo Wither- Use to be his closest upon closest friends, until Brodie stole Vincent's fiance, Rachel, and the two haven't spoken since the official break up. Former Member of Maximum Seven
Vikki Terisa Wither- Best friend who's known Brodie for about sixteen years. Also a former member of 'Maximum Seven' as a singer and multiple instrumentalist because she plays EVERYTHING... Not even a joke. She's currently over in the state for a modeling contract. Though she doesn't approve of Brodie and Rachel being together, namely because Rachel stabbed her brother in the back, she's there for her friend still.
Minerva Wheatborn- Old friend from Hogwarts that he hasn't spoken to in months
Claudette Anaïs d'Avignon- Brodie's crush, though he's married he admittedly still gets a little bit flustered whenever his old crush comes up.
Rachel King- This is a very love hate relationship with this girl. She's also Brodie's ex, though she's a little more backstabbing than the other. Rach had cheated on Brodie with Vincent, who she is currently still dating. Another former member of 'Maximum Seven' as a singer and piano/synthesiser player. She's now Brodie's wife after Vincent and her breakup, and is expecting Brodie's child, Josephine.
Ad blocker interference detected!
Wikia is a free-to-use site that makes money from advertising. We have a modified experience for viewers using ad blockers

Wikia is not accessible if you've made further modifications. Remove the custom ad blocker rule(s) and the page will load as expected.