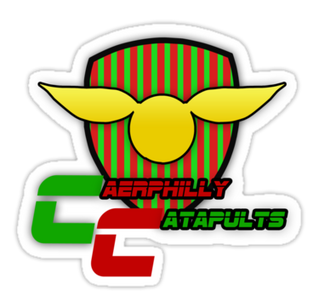 Caerphilly Catapults

Robes

Alternating light-green and scarlet vertical stripes
The 
Caerphilly Catapults
is a team in the British and Irish Quidditch League. The team is located in Caerphilly, Wales and known for their league winnings.
Current Roster
Former Players
Rhys Glyndwr, chaser (?-2069)
Soren Wood, chaser (? - 2084)
Kristin Crewek, chaser (? - 2087)
Cheri Agneli, chaser (? - 2087)
Rowan Chancellor, seeker (? - 2087)
Karly Richards, seeker (2087 - 2088)
Rebecca Maroon, manager (? - 2088)
Ad blocker interference detected!
Wikia is a free-to-use site that makes money from advertising. We have a modified experience for viewers using ad blockers

Wikia is not accessible if you've made further modifications. Remove the custom ad blocker rule(s) and the page will load as expected.