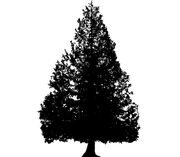 Appearance
Cedars are trees up to 30–40 m (occasionally 60 m) tall with spicy-resinous scented wood, thick ridged or square-cracked bark, and broad, level branches. The shoots are dimorphic, with long shoots, which form the framework of the branches, and short shoots, which carry most of the leaves. The leaves are evergreen and needle-like, 8–60 mm long, arranged in an open spiral phyllotaxis on long shoots, and in dense spiral clusters of 15–45 together on short shoots; they vary from bright grass-green to dark green to strongly glaucous pale blue-green, depending on the thickness of the white wax layer which protects the leaves from desiccation. The seed cones are barrel-shaped, 6–12 cm long and 3–8 cm broad, green maturing grey-brown, and, as in Abies, disintegrate at maturity to release the winged seeds. The seeds are 10–15 mm long, with a 20–30 mm wing; as in Abies, the seeds have 2–3 resin blisters, containing an unpleasant-tasting resin, thought to be a defence against squirrel predation. Cone maturation takes one year, with pollination in autumn and the seeds maturing the same time a year later. The pollen cones are slender ovoid, 3–8 cm long, produced in late summer and shedding pollen in autumn.
Properties
Cedar wands cleanses negative atmospheres. Used for the creation of sacred spaces. Related to longevity, protection, and preservation, it is often used to summon helpful spirits during rituals and invocations.
Ad blocker interference detected!
Wikia is a free-to-use site that makes money from advertising. We have a modified experience for viewers using ad blockers

Wikia is not accessible if you've made further modifications. Remove the custom ad blocker rule(s) and the page will load as expected.