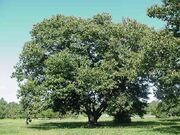 Appearance
Chestnut trees are of moderate growth rate (for the Chinese chestnut tree) to fast-growing for American and European species. Their mature heights vary from the smallest species, often shrubby, to the giant of past American forests that could reach 60 m. In between these extremes are found the Japanese chestnut at 10 m average; followed by the Chinese Chestnut at about 15 m, then the European chestnut around 30 m. Its bark is smooth when young, of a vinous maroon or red-brown colour for the American chestnut, grey for the European chestnut. With age American species' becomes grey and darker, thick and deeply furrowed; the furrows run longitudinally, and tend to twist around the trunk as the tree ages; it sometimes reminds one of a large cable with twisted strands.

The leaves are simple, ovate or lanceolate, 10 to 30 cm long and 4 to 10 cm wide, with sharply pointed, widely-spaced teeth, with shallow rounded sinuates between.
The flowers follow the leaves, appearing in late spring or early summer or onto July. They are arranged in long catkins of two kinds, with both kinds being borne on every tree. Some catkins are made of only male flowers, which mature first. Each flower has eight stamens, or 10 to 12. The ripe pollen carries a heavy sweet odour that some people find too sweet or unpleasant. Other catkins have these pollen-bearing flowers, but also carry near the twig from which these spring, small clusters of female or fruit-producing flowers. Two or three flowers together form a four-lobed prickly calybium, which ultimately grows completely together to make the brown hull, or husk, covering the fruits.

The fruit is contained in a spiny (very sharp) cupule 5 to 11 cm in diameter, also called "bur" or "burr". The burrs are often paired or clustered on the branch and contain one to seven nuts according to the different species, varieties and cultivars. Around the time the fruits reach maturity, the burrs turn yellow-brown and split open in 2 or 4 sections. They can remain on the tree longer than they hold the fruit, but more often achieve complete opening and release the fruits only after having fallen on the ground; opening is partly due to soil humidity.
Properties
Artistic ability, magical knowledge, and optimism are provided by the enchanting use of Chestnut. The energy of chestnut wands promoted love and creativity allowing a person to move beyond self-serving modes of existence. Hazel is the bringer of change. Hazel also promotes creative expression, eloquence, and art of all types.
Ad blocker interference detected!
Wikia is a free-to-use site that makes money from advertising. We have a modified experience for viewers using ad blockers

Wikia is not accessible if you've made further modifications. Remove the custom ad blocker rule(s) and the page will load as expected.