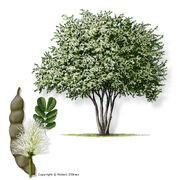 Appearance
Ebony's usually grow in a rounded manner, with a spreading or horizontal vase shape. The leaves are dark green bipinnately divided with oval leaflets. Most genus' are known to have flowers which are creamy white or yellow in colour. These fragrant flowers make great additions to greenhouses and are good street and shade trees because of its ability to grow in small places with compacted soil. The Ebony tree blooms in late spring and intermittently throughout the summer. The fruit which is only produced during spring time are 4 to 6 inches long, and have seed pods that are black or brown.
Properties
Ebony is the most famous of the Dark woods, and is one of the most powerful wandwoods avaliable. It is strong in two ways: for visual impact and power. It is known to be a very receptive wood, and bonds with its owner effortlessly.
Ad blocker interference detected!
Wikia is a free-to-use site that makes money from advertising. We have a modified experience for viewers using ad blockers

Wikia is not accessible if you've made further modifications. Remove the custom ad blocker rule(s) and the page will load as expected.