Introduction
Elizabeth is a Pureblood witch who works in the Department of International Co-operation at the Ministry of Magic. She was born in France, and speaks the language fluently, but English is her first language for the family is English despite her place of birth.
Early Life
Elizabeth May was born on the 12th May to a family in France, with three boys (Daniel, Luke and Joshua) and two girls (Elizabeth and Claire). Her parents longed for another daughter, even though they already had one. Probably to block out the noisy boys. They really liked kids, put it that way. She was definetely their favorite, much as they denied it but it didn't matter to the other children. They were occupied in their own lives and she was the youngest and cutest of them all. They brought the child loads of clothes and toys, rather than using her siblings hand-me-downs. She was born in her parents cosy bedroom in the south of France.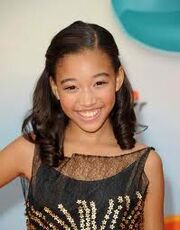 The large house and farm was located in the middle of nowhere (the children were homeschooled in muggle subjects before magic school), with no houses nearby, as the farm was so big.The empty field was amazing for practicing flying/Quiddich together. There were good and bad things about being so far from everywhere. The main good was that they could fly around and didn't need to hide their magic. The main bad thing was that there was nobody to play with or talk to as a child. Although the siblings got on well, only the twins would actually have company to play with and talk to, so most of Lizzie's time was spent helpingout on the farm and riding the big shire horse. Although she enjoyed this, she always longed for a friend.
When there was no work outside, she would sit in her colourful bedroom, playing with dolls and continuously looking out of the window in the hope that a friend would just appear out of nowhere. She would dream of friendship at night. She led a busy life, but Beth just couldn't feel that it was complete.
When she was ten, almost ready to go to Beauxbatons, Beth's father got a job transfer and needed to move back to England, where they had lived before she was born and where many of the family lived as she was half English, and spoke the language well. So, instead of the French school, she went to Hogwarts instead, very lucky to have got a place so easily.
Hogwarts Years
TO BE EDITED IN
O.W.L and N.E.W.T Results
TO BE EDITED IN
After Hogwarts/Current
TO BE EDITED IN
Appearance
TO BE EDITED IN
Personality Traits
TO BE EDITED IN
Ad blocker interference detected!
Wikia is a free-to-use site that makes money from advertising. We have a modified experience for viewers using ad blockers

Wikia is not accessible if you've made further modifications. Remove the custom ad blocker rule(s) and the page will load as expected.