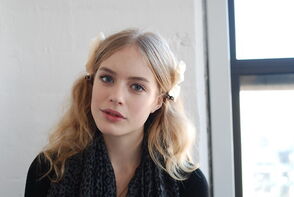 Eva Astrid Lindgren was born on the 7th of June 2061 in Roskilde, Denmark
Eva was born to a family of purebloods with 2 older siblings Freja Ingrid Virke(nee Lindgren) and Otto Rasmus Lindgren at ages 23 and 20. Eva will be transferring from The Beauxbatons Academy to Hogwarts School of Witchcraft and Wizadry.
Eva Lindgren

Full Name:

Eva Astrid Sofie Lindgren

Born:

7th June 2061

Marital Status:

Currently Single

Blood Status:

Pureblood

Nicknames:

Evie, Eve
Physical Appearance

Hair Color:

Dark Blonde

Eye Colour:

Green

Height:

5'9"/176cm

Nationality:

Scandinavian

Gender:

Female
Early Life
Eva Astrid Sofie Lindgren was born on the 7th of June 2061 in Gothenburg, Sweden in the Summer to Ingrid and Oslo Lindgren. When Eva was born Ingrid had a sign of relief as she had been pushing for a long time. At first it had been Oslo to have a hug with her and taught her how to do stuff as Ingrid had to take care of Freja and Otto as they were two cheeky, young kids and extra sleep for Ingrid. At an early age Ingrid had met some delighful muggles who didn't think of them as 'freaks' and had taken Eva to play the muggle sport tennis. Eva enjoyed this and hit great shots even if it was a muggle sport, she enjoyed it!
When Eva was 5 or 6 she was homeschooled thus her teacher being her father as Otto did so while Freja was at Hogwarts in her third year. Eva enjoyed it a lot but she also fighted a lot with her brother and calling him names. It wasn't until Freja came home they had learnt friendship.
Education at Beauxbatons
Eva Lindgren attended the Beauxbatons academy since the age of 10 or 11 and has been the only person in her family to go there . Eva got a note that she had been accepted in the school on her 11th birthday. She thought she would be going to Hogwarts School of Witchcraft and Wizadry since her whole family had attended there.
Family
Eva has a good relationship with her family as they have always been there for her.
Father: Oslo Melvin Lindgren
Mother: Ingrid Lena Lindgren (nee; Fenelburg)
Sister: Freja Ingrid Virke (nee; Lindgren)
Brother: Otto Rasmus Lindgren
Brother-In-Law: Teo Lars Virke
Soon To Be Sister-In-Law: Elana Karlsson
Appearance
Eva has long, dark blonde hair with a pair of greeney/gray eyes that when you see them they pop out and become the best feature of her. She is also quite tall standing at 5'9" and still growing. When you see her she'll usually wear: a dress with a coat around it if its chill but if its a nice day 1/4 pants and a singlet or a dress.
Behind The Name/Trivia
She is named after Astrid Lindgren
Her first name Eva means 'life, animal' in Hebrew
Her first middle name Astrid is of Scandinavian origin meaning 'fair'
Her 2nd middle name: Sofie is a variant of Sofia meaning 'wisdom'
Her model is Josefin Hedstrom
Ad blocker interference detected!
Wikia is a free-to-use site that makes money from advertising. We have a modified experience for viewers using ad blockers

Wikia is not accessible if you've made further modifications. Remove the custom ad blocker rule(s) and the page will load as expected.