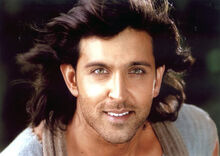 Fabian Gwalchmai Clark (born 16 August 2018) served as the Groundskeeper (2063-64) and Professor for Care of Magical Creatures (2064-65) and Ancient Runes (2065-2067) at 
Hogwarts School of Witchcraft and Wizardry
. He was sorted into Slytherin as a student, eventually graduating in 2036. Before returning as staff, he played as a Keeper in Quidditch and rose as Head in the Department of Magical Games & Sports.
Personality:
Name: Fabian Gwalchmai Clark
Age: 45+
Eye Color: Green
Hair: Black
Height: 6"1
Skin Tone: Tanned
Status: Widower
Pets: Fex the goat

Fabian is sharp witted, arrogant, and social. He's very loyal to his friends, and goes beyond his call of duty in time of need. Athletically built, with very handsome features inside and out.
History:
Fabian originates from a Deutch pureblood family that moved to England in the past 150 year. Fabian and his family live in London, England. Both of his parents attended Hogwarts and were sorted into Slytherin. He's an only child, growing up as his mother tended to pretty much spoil him, while his father tried to be strict with him and raise him to the family prestige.
Post Hogwarts, he pursued his dream and found himself a career in Quidditch. Plastering his face over various magazines worldwide, Fabian was labeled with 'hands of steel' for being one of the most talented Keepers in Quidditch history. One of his famous awards was being dubbed as the "Most Handsome Bachelor" in Britain. Despite all the fame, Fabian was terribly injured in one of the World Cup Quidditch Championships, sending waves of disappointment to all his fans and mostly to himself since it kept him from continuing his career as a champion level Quidditch player.
After a few years healing, Fabian took a job to work in the Department of Magical Games & Sports. He was promoted to Head of that Department many years later.
During his Ministry years, Fabian met a co-worker that changed the ways he viewed life, making him change his behavior, actions, and ways year after year. This, of course, made him fall in love with her, and later they wed.
Only a short time later, Fabian meddled in certain risky affairs that caused the death of his wife.  
OOC:
Model portrayer is Hrithik Roshan. Fabian Clark is a character portrayed by BlackWidow .
Ad blocker interference detected!
Wikia is a free-to-use site that makes money from advertising. We have a modified experience for viewers using ad blockers

Wikia is not accessible if you've made further modifications. Remove the custom ad blocker rule(s) and the page will load as expected.