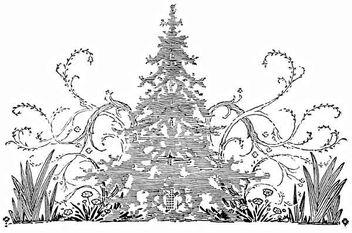 The most popular flesh-eating tree in the world is the Flesh-eating Fir. While its name may conjure up unseemly nightmares, this variety is actually completely harmless to us wizarding folk. This particular type of flesh-eating tree feasts upon its own kind, devouring bark, roots and flesh of the other dangerous trees lurking in our forests. While this may seem like reason enough to celebrate this strange little tree, it is its unusual foliage that has made it so popular.

Appearance:
The Flesh-eating Fir has extremely pale cream coloured leaves. These leaves glow like a million tiny lanterns when touched by moonlight. This feature alone makes it a wonder to behold and a reason why so many wizarding families try to keep these trees near their homes. However this tree has a few more tricks up its sleeve. While relatively small compared to some of its relatives, at a maximum height of 4 feet, it roams the forest floors at speeds of up to 7 miles per hour.
Properties:
Hunting is done strictly in daylight when it has the advantage of sneaking up on its prey sleeping under the sun. It attacks quickly and efficiently biting chunks out of the chosen target and then quickly retreating to find new prey. Many trees have multiple scars left by these avid eaters. It never entirely kills the other flesh eating trees, it just lives off them almost like a lightning quick parasite.
This tree is also commonly referred to as the Cannibalistic Christmas tree. While resembling a common Christmas tree when lit up at night, it also decorates itself with small trinkets, flowers, and oddities it finds while roaming the forests. Making some of these trees walking works of art. If you are lucky maybe you'll catch a glimpse of one of these spectacular trees while in its full moonlit splendour.
Ad blocker interference detected!
Wikia is a free-to-use site that makes money from advertising. We have a modified experience for viewers using ad blockers

Wikia is not accessible if you've made further modifications. Remove the custom ad blocker rule(s) and the page will load as expected.