Hilda Jarvi born Hildanina Eira Suvi Jukkasjarvi
Hilda Jarvi



Full Name

Hildanina Eira Suvi Jukkasjärvi

Date of Birth

20th of February 2049

Place of Birth

Rovaniemi, Finland

Blood Status

Pureblood

Marital Status

Single

Commonly Known As:

Former House

Slytherin
Physical Information

Hair Color

Blonde

Eye Color

Green

Height

174 cm

Build

Athletic
(Finnish, Sami Pronounciation: (she'll just say) Yoo-kas-yar-vee) was born on the 20th of February 2051 in the unknown hospital that had only been used by Wizarding familys in
Rovaniemi, Finland
. Hilda was homeschooled by her father untill the age of 12 when she went to a Hogwarts School of Witchcraft and Wizadry and was sorted in to Slytherin. Hilda is a native Sami and Rovaniemi native.
Hilda has one brother named Mikael and a sister named Elina who went on to marry Russian pureblood wizard Ivan Elkovev making Elina, Elina Elkoveva. Hilda now works for the British Ministry of Magic in the Magical Maintenance Department.
Early Life
Hildanina Eira Suvi Jukkasjarvi was born on the 20th of February 2049 at 2 am in the morning to Mariya Jukkasjarvi (nee; Borgen) and Kohl Jukkasjarvi. Mariya was helping out with all the snow in Rovaniemi the time Hilda was born and Kohl Jukkasjarvi was a Sami Finn working with kids with aids around she was born. Hilda has two older siblings named Mikael and Elina. Elina being her favourite she seriously didn't like her brother as he was mean and nasty to her. Both Hilda's parents went to Hogwarts both being sorted into Slytherin they excepted there children to be sorted there to.
Education
TBE
Appearance
Hilda has mid length blonde hair and a mix of green and gray eyes. Hilda comes from a family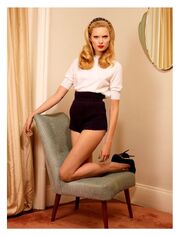 were appearance means everything so she cares a lot about her body and all. Other than looks Hilda is not to tall standing at 5'8.5" she is the shortest person in her family. Height has meant a lot to her family as well as most women in her family have been professional models were they have been paid a fourtune with the sucessive career.
Etymolgy
Her name 'Hilda' means 'battle woman' in Old German
Middle name 'Eira' is a Swedish modern version of 'Eir' which means 'mercy'
Her second middle name 'Suvi' means 'summer' in Finnish
Her last name 'Jukkasjarvi' is of Finnish Northen Sami origin. There is a village called Jukkasjarvi in Sweden which is also Sami but Swedish. She claims that her family last name cam before.
Other Facts
Hilda is from were Father Christmas is believed to live in; Rovaniemi.
Hilda speaks a total of six languages her natives Sami and Finnish, Swedish, German, Hebrew and Russian.
Ad blocker interference detected!
Wikia is a free-to-use site that makes money from advertising. We have a modified experience for viewers using ad blockers

Wikia is not accessible if you've made further modifications. Remove the custom ad blocker rule(s) and the page will load as expected.