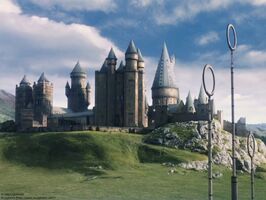 Hogwarts School of Witchcraft and Wizardry was founded over a thousand years ago by the greatest witches and wizards of the age. It serves as a safe haven for magical youth, providing them absolute protection as well as the finest quality education in Great Britain. Students do not need to pay to attend, nor do they need to apply: youth are magically added to the roles upon their birth.
Because the various locations in the school are generally known through Rowling's canon, the list below contains only those locations that are both unique and signficant to the SS RPG.
Note: Please feel free to add unique SS RPG specific locations to this catalog. The only stipulations are that we keep the list in alphabetical order and maintain the coding when you add a location, and that you only add Hogwarts locations that are unique to the RPG and that are significant for some reason.
Spirit Room
For a time during Terms 5,6, and 7, Hogwarts was host to many ghosts, many of them newly minted and still decidedly social. The Spirit Room was established as a protected place for them to socialize without human harassment. Professors could access the room if necessary, but any student who dared to tread over the threshold would find themselves cursed with new hair colors, disfiguring boils or other horrible charms. The Spirit Room was where the Draught of Ephemera was brewed in Term 7, and after the ghosts returned to their physical forms, it was no longer needed. For a time, the Spirit Room was used as a meeting for several secret student organizations. In 2075 (Term 28), it was discovered that Charlotte Rainecourt, daughter of a previous Headmaster and beloved of the Pirate Mage Captain Barnabus, was buried in the Spirit Room. Once her spirit and Barnabas' were reunited, her spirit was laid to rest.
Ad blocker interference detected!
Wikia is a free-to-use site that makes money from advertising. We have a modified experience for viewers using ad blockers

Wikia is not accessible if you've made further modifications. Remove the custom ad blocker rule(s) and the page will load as expected.