Appearance
The leaves are deciduous, alternate, and simple with a serrated margin, and typically vary from 3–10 cm in length. The flowers are wind-pollinated pendulous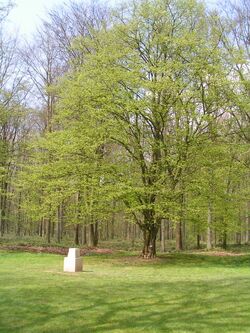 catkins, produced in spring. The male and female flowers are on separate catkins, but on the same tree. The fruit is a small nut about 3–6 mm long, held in a leafy bract; the bract may be either tri-lobed or simple oval, and is slightly asymmetrical. The asymmetry of the seedwing makes it spin as it falls, improving wind dispersal. The shape of the wing is important in the identification of different hornbeam species. There are typically 10–30 seeds on each seed catkin.
Properties
Hornbeam, or ironwood, is considered to be the most stubborn of wand woods. Those who have the necessary will to master it will be rewarded with an extremely powerful wand.
Ad blocker interference detected!
Wikia is a free-to-use site that makes money from advertising. We have a modified experience for viewers using ad blockers

Wikia is not accessible if you've made further modifications. Remove the custom ad blocker rule(s) and the page will load as expected.