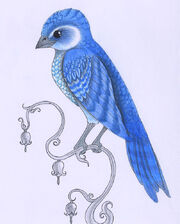 The Jobberknoll was first introduced by Professor Riddoc in Care of Magical Creatures class during Term 8. The creature later made its reoccurence in the classroom. They are silent creatures up until the moment of their death, when they emit a long cry made up of every sound it ever heard in its lifetime backwards. 
Appearance
The Jobberknoll is described as a tiny blue-speckled bird with their diet consisting mainly of small insects. Their feathers are useful, harvested in Truth Serums and Memory Potions. 
References
Care of Magical Creatures Lesson 2; Term 8
Care of Magical Creatures Lesson 1; Term 35

Ad blocker interference detected!
Wikia is a free-to-use site that makes money from advertising. We have a modified experience for viewers using ad blockers

Wikia is not accessible if you've made further modifications. Remove the custom ad blocker rule(s) and the page will load as expected.