Jonathan Kim

Jonathan Kim (조나단 김)

Birth date

June 10, 2060

Blood Status

Pure-blood

Marital Status

Single

House

Slytherin

Year

Graduated

Ethnicity

Half-Korean, half-English

Languages

Korean, English, Romanian

School (s)

Hogwarts School of Witchcraft and Wizardry

Universitatea din Magic (Romania)

Wizarding University, Norway
Physical Appearance

Species

Human

Hair color

black, brown, honey blonde (briefly)

Eye color

brown

Height

5'8"

Skin

Pale
Family Information & Affiliation

Family Members

•Kim Ji Su (grandfather) †

•Lee Mi Kyoung (grandmother) †

•Victoria Anne Miller- Kim (mother)

•Anson Kim (uncle) †

•Armand Kim (uncle) †

• Andy Kim (uncle) †

•Arthur Kim (uncle) †

•Charlotte Song-Kim (aunt)

•Juliet Kim (cousin)

• Erik Philippe Miller (grandfather)

• Priscilla Trent-Miller (grandmother)

•Cecile Jane Miller (aunt)

Loyalty

• Slytherin

•Duelling Club (2075-2076)

• Kim Family

• Miller Family

• Lee Family

• Song Family

• Morgan Family
Magical Characteristics

Wand

11 inches, Unicorn Hair and ash, Pliable

Boggart

Centaur

Patronus

horse

Amortentia

cinnamon and nutmeg
Jonathan Kim (조나단 김) was born on June 10, 2060, in London, UK. He is a graduate of
Hogwarts School of Witchcraft and Wizardry
. He was sorted under the
Slytherin House
.
Jonathan Kim is half-Korean, half-English. His father, Alexander Kim (알렉산더 김) is a pureblood Korean wizard and his mother, Victoria Anne Miller is also a pureblood witch. Jonathan grew up in a Korean family that still preserves both their ethnicity and their blood status/ heritage. As a child, Jonathan was taught how to read, write, speak and understand the Korean culture and language so that he will always know where he comes from. He was brought up with the same teachings his grandfather had taught his father. However, instead of learning Korean, Jonathan usually slacks off or go somewhere to relax and just have fun.
Jonathan is studying in the University of Romania, pursuing a major in Potions. He also attended a scholarship exchange student program in Norway on his third year, for 2 semester. 
Early years
Jonathan Kim is the only child and the first grandson of Kim Ji-Su (김 지수) and Lee Mi Kyoung(이미경). Coming from a family of means, Jonathan grew up with all the things he wants. Although, the grandparents from his mother side never liked the fact that Victoria married a Korean thus, Jonathan had never seen his mother's side of the family for as long as he could remember.
Alexander Kim raised his son strictly just like his father did with him and his siblings. Jonathan was rarely out of the house and his possible friends back then was Nobi , the Kim's family house elf. Jonathan also grew up in a family that always believed that purebloods are very much superior beings than the rest. While the Kim's family believe in such, Victoria believed otherwise. Victoria believes that blood supremacy is never something to boast about.
Due to Alexander's way of raising Jonathan, Jonathan grew up mostly scared about his father and has never did anything against his will. He has always done what he has been told and merely has time to have "fun". Victoria supplied what Jonathan needed the most. So basically, he grew up to be a mother's boy. As a young child, Jonathan had always been attached to his mother more than his father. Victoria taught him about Hogwarts, it's past, and everything he has to know about magic while his father taught him about Slytherin, purebloods, and Potions.
Alexander's brothers loves to travel even himself. So whenever they come by to his house and baby sit Jonathan for the week, they take him somewhere else. In three years Jonathan has already been in eight countries, without his knowledge. These countries includes Italy, Korea , Japan , France , Germany , Switzerland , Alaska , and Egypt .
At the age of 8, Alexander bought Jonathan his first Potions book. After that, Jonathan just became more and more interested about Potions . When he had nothing else to do at home, he and Nobi used to play-pretend. Nobi would supply him ingredients while he would just pretend to brew them.
At the age of 9, Jonathan was taught how to play quidditch by his uncles. His uncles usually come and visit them 3 times a month just so they could play with Jonathan. Jonathan did like playing quidditch but he's not too good. He'd rather just play something else instead. At the same age, he also watched his first Quidditch game when one of his uncles baby sat him.
At the age of 10, Jonathan came to Korea to celebrate his grandfather's death annicersary. Jonathan was quite at awe to see that he has a lot of relatives in Korea. As much as he wanted to communicate, he couldn't since he barely knew how to speak his father's native language.
Hogwarts Years
The Kim family hasn't been sorted in other houses exceot for Slytherins. So Jonathan was pressured about getting sorted under Slytherin especially when one of his uncles said that the Sorting Hat might change his mind in sorting him under Slytherin . Jonathan has been too wary about getting sorted after that.
First Year:
[to be edited]
Second Year:
[to be edited]
Third Year:
[to be edited]
Fourth Year: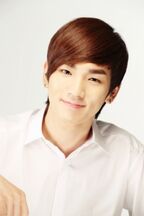 Jonathan's fourth year seemed to be the fastest one yet. He didn't know how it exactly happened but he felt like his fourth year just automatically went by with a breeze. This is the same year (during the start of class) when he finally had the courage to tell Jeanne, his childhood friend that he likes her. However, Jeanne could never return the same feelings for him. To her, Jonathan is a special friend and nothing else. Jonathan really did feel bad after that. On the brigther side of things though, he manged to attend every class and earned a lot of points. He mostly passed the homeworks and managed to have full concentration to the professors' lectures. Then later in the year, their Divination professor told them to give a boquet of flowers to someone. Jonathan gave it to Cass Prewett . The feelings he had for her were more confused. Jonathan did describe Cass as pretty and very independent.
Fifth Year:
Jonathan's fifth year started when he accidentally experimented on his hair one summer day. He was reading one of the books they have in his father's library. He felt like wanting to have a new make-over, so he decided to lighten up his hair from black to the shade of chocolate brown or maybe lighter than chocolate brown. In the end though, he managed to have got something wrong that he ended up with the blonde color. Jonathan didn't like the new hair color so he asked his mother to help him change it back. Unfortunately for him, Victoria liked what he had done with his hair so she pretended not to know the spell even though it was so clear to Jonathan that she knew it in the first place. She even told him that the spell will eventually wear off and he can go back to his regular hair color... Victoria described it as "dull and boring". Luckily for him, they managed to learn about hair changing colors during their
Charms
class. He then was happy to change back his hair color. However, he just went on with the blonde hair until the end of the term, confident that he can change it back.
During Jonathan's fifth year, Jonathan had spent more time with Kurumi even when she had prefect duties. Jonathan always thought of Kurumi as a little sister and would never admit it to himself that he grew feelings for her. Later in the year though, after coming back from winter vacation, Jonathan gave Kurumi a purple scarf and finally confessed everything to her.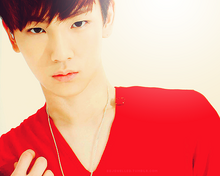 Sixth Year:
Having to say goodbye to all his senior friends, Jonathan was sad that everyone he hung out with was gone. Quite frankly, Jonathan barely knows kids his age and he admitted that he barely sees them walking around school. There was a time when he thought that there were only 5 students at Hogwarts that has the same age as he does.
During the summer days, Jonathan was tutored Korean all the time and Alexander had became more strict about it that ever. Since he was nearing to graduating Alexander gave him a lot of pressure about choosing his career path. However, Jonathan had became more and more stubborn about it.
On the second half of the term, Jonathan wasn't able to come back to school. Alexander forced him to stay over after the holidays and told him that he'll be back when the term starts. A few weeks later, Victoria sent him to France to stay with Armand, his wife and his cousin for the meantime. Since the two were preparing their daugther for Hogwarts, they included Jonathan as well with the tutoring. However, Armand tutored Jonathan Potions during the weekend when he's free from teaching his daughter. Jonathan is still learning new lectures even when he's at his uncle's house. However, Armand would sometimes teach him advance lessons when it came to Potions, Charms, Transfiguration and DADA. A disadvantage of him staying away from Hogwarts is that he never gets to learn much about Muggle Studies for Armand and his wife, both knows nothing of the subject. It's usually Arthur's forte.
During the time he's staying at his uncle's house, he got to know more of his cousin and eventually they both became closer. Jonathan never liked her from before but she has been such a great listener everytime they would just "hang out" around the gardens and talk. In return though, he had to share Hogwarts stuffs to her.
Seventh Year: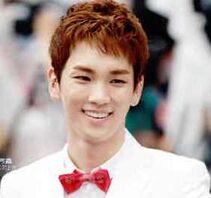 Jonathan came by London earlier than most of the Hogwarts' student. He had spent it lazing around and finished preparing all his piano pieces before school had to start. The week after that, he met up with Kurumi and talked about her ill mother. Jonathan felt guilty for not having to be there to comfort her while she was hurting and to make matters worse, he had not been able to send that much letters to her. Just one, during her birthday.
To say Jonathan's seventh year was bad, is an unerstatement. The day after the feast Jonathan was confronted by Kurumi. One that possibly have hurt him his entire existence. She confessed that she had kissed Lewis Rasting while he was away and this made Jonathan dislike the Hufflepuff a lot and as well as Kurumi. They broke up and with that, Jonathan had told her to never speak with him ever again. Which he did the whole term. 
Jonathan was able to regain strength after what happened to him but as a result, he was back to his cold behavior that most people know and/or have encountered. He attended his classes, did his homework and unexpectedly did well in studying. Seeing Kurumi around school, was of course became a struggle but he had kept it all to himself and showed no emotions nor hint of depression to anyone, not even to his closest friends. However, it became awkward for him when he had to partner up with Kurumi during Potions. He tried his very best to act casual and not look at her even once. But then not too long, Kurumi and some of his classmates were frozen and the class was cancelled.
Jonathan stayed in Norway during the winter vacation and had his eyes and mind set on one particular girl, Genevieve Meyer. Genevieve's family has been a close family friend of the Kim's. Jonathan's father have worked for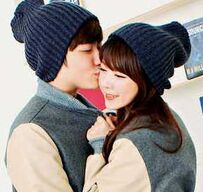 more than 5 years and has her father's trust. Genevieve is quite spoiled but Jonathan tamed her well enough that he managed to fall for her without noticing it. The two would fight countlessly but Jonathan could not stand not being able to see her in a day. The night before new year's eve, Jonathan confessed about falling for her and kissed her, only to know that Genevieve likes him as well. The two celebrated their new years together in Japan when they went to see the Diamond Snow. According to legend, it happens only once a year during sunrise at a span of 3 minutes. It also been said that when you see it together with the one you love, you shall be together forever. Although, Jonathan did not believe this so. Later in the evening the two bonded and had an amazing experience together which had molded the couple more attached and happier than ever.
During the Spring season, Jonathan was surprised by a piano by Louisa as a cheer up present. He did not expected for her to this but she was very much specific that she wanted to see him back. Jonathan felt really thankful for what Louisa. It was such a big gesture considering how his term was. Although, Louisa also presented Jonathan a second present, piano sheets that had his name. Of course, Jonathan knew who's hand writing it was so he kept them. He kept them long enough to realize that his feelings were still unsettling even after their break up.
Later in the season, Jonathan had a talked with Lewis when they both unexpectedly met each other in one of the corridors in school. Jonathan was not happy to see him and was close enough to punch him but didn't. In the end, he gave Lewis a brown enveloped that was wrapped firmly, enough not to let anyone take a peek inside of it, not even Lewis himself. Inside was the piano sheets that Kurumi had intended to give him. 
At the end of the term, Kurumi and Jonathan once again met up unexpectedly at the owlery. Undeniably, Jonathan confirmed to Kurumi that he will be away. Hinting her that he wanted to be away from her and doesn't want to see her as a sort of closure for the two of them. Kurumi also presented that she had been keeping the necklace that Jonathan gave. However, Jonathan took it away from her even though she pleaded to have it back.
Jonathan felt happy graduating at the best wizarding school in the world. It was a bit hard saying goodbye to his friends but he promised to write to them as much as he can. 
After Hogwarts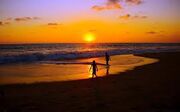 Jonathan travelled during the summer after his graduation. To him it was one of the most hectic summer in his seven years at Hogwarts. He met up with his girlfriend the first thing he came home. He  celebrated his birthday in Switzerland with his foreign friends and then spent the last days of summer with Louisa in one of his aunt's summer houses in Spain. The Spain vacation, which is an all-expense-paid vacation, was a treat to Louisa for being the new Head Girl of Hogwarts. He was so happy that she was given such an honorable badge and is quite teasing her about it too. Nonetheless, the summer made the two catch up with all the things. He finally had details about some of the stuff that she knew that he never knew at all.
It was a fulfilling summer and Jonathan was really happy that he got to spent it with Louisa before he leaves for college.
Jonathan passed his requirements and took the entrance exam after graduating at Hogwarts in the University of Magic, which is in Romania. His father and him had talked about this from time to time and he was well enough blessed with the knowledge for Potions just like everyone else in the family. The University gladly accepted him and finally he is majoring in Potions and minoring in Research Potions. 
University of Magic, Romania (Universitatea din Magic Romania)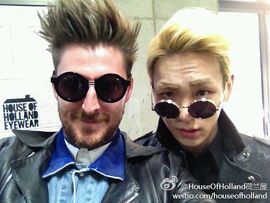 After Hogwarts, Jonathan decided to enhance his skills more at Potions which led him to enroll at Romania's University of Magic to take up Potions as his major. He is also currently minoring in Research which mostly falls in dragons. 
Jonathan lives in a dorm in Romania and lives together with 2 of his new friends. He also worked part-time at a cafe in school just so he could have extra allowance for himself. He later quit his part time job due to the amount of work he had to do in his Research Potions. 
Jonathan took care of 2 dragons. The first was Butterbeer on his first year. The dragon's name was quite long and was in Romanian, it was hard for him to pronounce it, so in the end, Jonathan decided to name the dragon Butterbeer, mainly because Butterbeer's colors sort of resembles that of a Butterbeer. However, during the time he was taking
care of Butterbeer, the student who is also tending the Butterbeer didn't like Potions' students. Which made Jonathan write a letter to his professor that he can no longer continue his research for the said dragon due to the complications he and the other student are having at the moment. The letter was soon approved and he was given a new dragon to observe.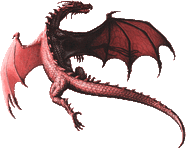 Again, the dragon's name was long and in Romanian that Jonathan made a new name for him, Firewhiskey. Also because, the dragon's colors resembles that of a Firewhiskey. At the end of the term, Jonathan was able to finish all of his requirements early and passed it before half the class did.
In the summer after Jonathan's first year, Jonathan signed up to work part-time at the Daily Prophet where he could test his skills and his abilities to cope up with a "job". Jonathan has never worked so being accepted in the Daily Prophet was an achievement for him. Jonathan left the job early though and went back to Romania.
During his second year, Jonathan was surprised to see that Kurumi was going in the same university as he did. He saw Kurumi during the frshman orientation when their student body gave them a tour at the hatchery. Of course, at first Jonathan didn't believe that it was Kurumi he saw. Later in the week when the freshman had to do their first laboratory, Jonathan was doing his daily check up with Firewhiskey when he did saw Kurumi in one area of the room. The two have not spoken in school but had their staring moments when they pass each other on the corridors. 
Jonathan worked part-time at al cafe near their school to gain extra money other than his allowance. Which was also one of the reasons why he didn't come back home during the breaks, because he wasn't allowed to have a long leave. He eventually wrote to his parents stating his reasons for not being able to go home during the break.
Jonathan's research work was passed by his professors in Norway. Later, his professor told him that Jonathan was finally accepted in Norway for their exchange student program. The scholarship was for 2 semester but it will bring Jonathan more knowledge when it comes to his research since the university in Norway had a great history for their works in researching. Jonathan accepted the scholarship and transferred to Norway for a year.
Wizarding University, Norway
On his third year, Jonathan attended the Wizarding University in Norway. He came back to London earlier than most of his schoolmates. A week later he went back to Romania to process all of his papers before he leaves. He did party with his friends the night before leaving for Norway. 
Like in Romania, Jonathan also stayed in a dorm but this time with 5 other students who were also part of the exchange student program of the school. It was easier to communicate with them because they all speak english which made it quickly for them to bond. Jonathan never bothered learning the language since the professors mentoring them can speak english as well. 
While in Norway, Jonathan became busier with his research as he was not allowed to go out that often. He usually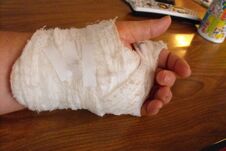 just stays in the laboratory and do sampling with the variety of Potion ingredients. He didn't have much classes to go to but whenever he did, he would usually feel sleepy and end up studying alone the night before the exams. Jonathan also became workaholic in his stay in Norway that he has burned his hand and broken a few fingers. it took him 2-3 weeks to recover from the pain of the heat and the healing process of the bones. He was also prohibited to play the piano for awhile for complete recovery of his broken fingers. 
Other Activities and Achievements
Piano Performances: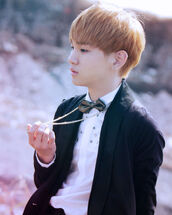 Jonathan loves to play the piano. He started composing at the age of 10 and from then on has created a lot of pieces on his own. During his years at Hogwarts, Jonathan has never played in front of anyone nor has intentions of doing so. Playing the piano was more of him being his own self. He never liked performing in a crowd. However, after his graduation, his mother booked him his first recital in Germany where his girlfriend's family will be the VIP guests of the recital. As much as he didn't like his mother's recital idea, Jonathan has no choice but to impress his girlfriend's parents considering that his father has been partners with his girlfriend's father for years already. That became the first ever piano performance of Jonathan. 
Jonathan's 2nd piano concert was held in Scotland and France where his cousin, Juliet Kim did a ballet performance as well. Due to his piano concert,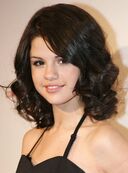 Jonathan wasn't able to go home. During his vacant time in Romania, Jonathan would use the unused piano on the tower (because no one goes there) and would compose his music there. 
On his thrid piano concert, Jonathan invited Beezus to see him play. He was surprised to see Beezus because Jonathan thought that she would go home with her aunt and she would be busy. it really made Jonathan happy when she came. After the concert, the two had a small chat about the current events: school, life and homework. He had a great time catching up with her.
Yearbook:
 -TBA-
-TBA-
O.W.Ls and N.E.W.T.s Grades
O.W.L (Ordinary Wizarding Levels):
Jonathan took his OWLs during his fifth year at Hogwarts and his results:
Potions- O
DADA // Defense Against The Dark Arts- E
Muggle Studies- O
Divination- E
Physical Appearance
Jonathan Kim is a tall slender boy with brown eyes, black hair and pale skin. The more he ages, the taller he grows. Currently he is 5'8" tall. His hair is normally black but sometimes when struck by sunlight, it will have shades of brown. Currently his hair is honey blonde due to the effect of experimenting on a hair colouring charm which went badly wrong.
However, later in his years, he grew fond of the blonde hair and Jonathan has n't been able to change it back. 
Personality and Traits
if you know him that well, Jonathan has a mild case of OCD behavior. It is said to be the reason behind his father strict upbringing to him. Jonathan could also be sometimes vain. He loves to look at himself in the mirror for some reason and he touches his bangs every now and then when he talks to someone. Jonathan grew up with his parents giving him everything he wants, so he tends to be sometimes spoiled. But the one thing he doesn't like is bragging. Jonathan also hates reading books but does have great interest in Potions.
Relationships:
Family:
Alexander Kim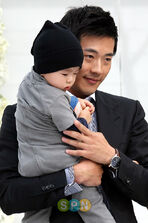 Jonathan has never been very close with his father ever since he was a toddler. In fact, he is scared of his father and does whatever he says. Jonathan describes his father as "strict and smart". Like his father, Jonathan is also interested in Potions. Following in his father's footstep is something Jonathan doesn't really have in mind but Alexander expects he will.
Alexander however, has never been sadistic towards Jonathan. It's just the way he let him grow up that scares Jonathan the most. His uncles did say that Jonathan's father does take after Jonathan's grandfather. Apart from being strict and whatnot, Alexander has never been prejudicial when it comes to blood heritage and is willing to let Jonathan marry whomever he wishes to.
Victoria Anne Miller
&nbsp
Victoria Anne Kim (nee Miller) is Jonathan's loving mother. She is guilty enough about the whole situation, so she spoiled her son. Jonathan is very close to his mother. Due to his mother's influence, one of the many habits
of Jonathan is that he loves shopping. Jonathan always had a good eye when it came to fashion. His mother taught him how to dress or suit up appropriately. Victoria has always had a problem with Jonathan making friends, especially with other houses. Not that she is disagreeing for Jonathan to make more friends with the Slytherins, it's just that he could find less friends in other houses.
Victoria is very gentle to Jonathan and has always took care of her only child even without the help of her husband. Although, she did wish that Jonathan could come visit her side of the family as well. She would usually tell him stories about them.
Another thing about Victoria is that she is quite over-protective about Jonathan. That is why, despite the fact that she supports his son from dating, she's not really in favor of liking Kurumi. To her, she could never imagined her little boy having an actual relationship with someone and up to now, she's still in denial about it. However, she never lets Jonathan know about it--- even though Jonathan can see when she is faking a smile.
Anson Kim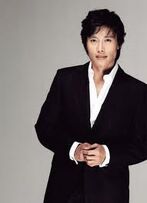 Anson Kim is Alexander's older brother. Ason is the only uncle of Jonathan that is not as attached to him as the other three were. He works in Germany, currently as a Healer and rarely comes by to visit his nephew.
Jonathan can't even remember him too well, even today. All that Jonathan knows about his Uncle Anson is that he's a smart wizard that usually buys him Potions books and toys.
Ason Kim is also the reason why Jonathan loves the color navy. Whenever he comes by to visit Alexander and Jonathan, he would usually buy him navy trench coats. Ever since then, navy has always been Jonathan's favorite color.
Armand Kim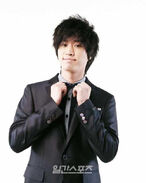 Jonathan is closest to his uncle Armand even as a child. Armand usually visited Alexander's house whenever he has a spare time on the weekend. Armand is notorious for being the naughty brother. He loves to play pranks and as a student at Hogwarts, he has been sent to detention a couple of times. Jonathan always listens to his uncle whenever Armand tells him his Slytherin days before thus, making Alexander quite worried about Jonathan being too close to Armand.
Together with Arthur, they are the ones responsible for "kidnapping" Jonathan as a child. They usually would go to another country and bring Jonathan with them, without telling Alexander nor Victoria.
Recently, Armand doesn't come by as often since he has just got married and is taking care of his wife.
Jonathan visited his uncle during half of the term in his 6th year. There, Armand tutored him the remaining stuffs that the school may have taught him in his time of absence. Jonathan was mostly happy about meeting up with his uncle and for the first time he finally bonded with his counsin.
Andy Kim
Andy is the Jonathan's uncle that taught him how to play quidditch at the age of 9. He also gave Jonathan his first broomstick on his 8th birthday. Jonathan didn't know how to use it though, since Victoria doesn't play quidditch and Nobi is a house elf. Alexander was barely at home as well. So, Andy usually came by their house and taught Jonathan the basics of flying and letting him fly on his own. In due time, when he was ready enough, he taught him how to play quidditch.
Currently, Andy hasn't visited Jonathan since he stays at home most of the time taking care of his 8 year old daughter. His daughter is the second grandchild/ neice of the family.
Jonathan met up with uncle in Italy when the family went on vacation during the summer. They played some quidditch and caught up with time. Andy was quite surprised to see how much Jonathan have grown over the years. In compensation for his absence and not visiting his nephew, he spent most of the time with him.
Arthur Kim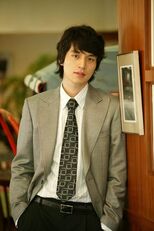 Arthur Kim is the last one to meet Jonathan after he was born. It was due to the fact that he was in Seoul, Korea at that time working as a transkator/ interpreter for the Minister of Magic.
Jonathan is also close to Arthur because of their personality. They both tend to be closer to their mothers rather than their fathers. Apart from Jonathan's mother that influenced him to shop, Arthur also did. Arthur usually bought Jonathan clothes as presents. Sometimes, he drags him down to Diagon Alley and buy him a nice suit.
Currently, Jonathan hasn't seen with his uncle Arthur. His father did say that he was still studying to get a degree of being a Potioneer in Korea.
People At Hogwarts:
Jeanne Morgan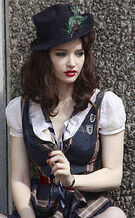 Jeanne is Jonathan's childhood best friend, first crush and first love. They used to play a lot outside of the manor and Jeanne became like a daughter to the Kim's family as well.
Jeanne is very honest and smart. Jonathan did once say that she's perfect in Ravenclaw but of course still wishes she were part of the Slytherin house. They're relationship are just the same as siblings. They help each other out at all means.
During the summer of Jonathan's fourth year, he had always showed signs on how much he likes Jeanne but then to Jeanne, it was nothing more but a brother-like gesture. Soon later through the term, he confessed to Jeanne about his feelings, kissing her on the forehead but unfortunately had let him down by telling him that she doesn't feel the same way at all.
Up until now, Jonathan would always joke about Jeanne being his first love which can sometimes feel awkward however, Jeanne would just pretend hearing about it.
Daichi Katharos
Daichi is like a little brother to Jonathan since they have first met. He likes to tease Daichi but is provides tons of support to the younger snake if he ever needs one. Daichi and Jonathan met on the train in his first year and Jonathan have grown attached to him since then.
Jonathan is an only child so having Daichi around Hogwarts made him feel more at ease considering him more than just a fellow Slytherin but as a little brother. To Jonathan, Daichi and him have bonded over little things and there were things that Jonathan would tell Daichi and probably vice versa as well.
Daichi also once told Jonathan his secret about Mr. Duckels and how the plushy saved his life and his traumatic experience of fire and his mother. All of which, Jonathan has not told anyone as Daichi did also mention of not telling anyone else.
Daichi grew more and more on Jonathan and the thought of leaving Hogwarts made the Slytherin sad, seeing as he has to say goodbye to the younger Slytherin.
Kurumi is the first friend of Jonathan that is not a Slytherin. As well as Jonathan's first girlfriend. Jonathan met Kurumi through Heather during his fourth year at Hogsmeade, to be specific at Madame Pudifoots. Ever since then, the two just became closer friends and talked about anything. Kurumi has always been comforting and easy to talk to with Jonathan, as a result, Jonathan fell for her unknowingly.
Jonathan once got annoyed seeing her crying at the student garden all because of the on-going rumor about her and Treyen that was published by the Aparecium.
During his fifth year, he finally realizes that he liked her and liked having her around. He tried his best mostly on how he should say it but he never did until he came back from his vacation. He bought her a purple scarf and with his surprised, Kurumi gave him a stuffed teddy bear as well. Finally telling her how he really felt, Jonathan was surprised to seeing as she felt the same way too.
On his sixth year at Hogwarts, Jonathan was forced to be pulled out by his father and halted any connection he can get from Hogwarts. But due to this, he strived to make sure to give her even just one letter which he did on her birthday. He asked a favor from a friend to send his letter and his gift to Kurumi via owl. Returning to Hogwarts on his seventh year, Kurumi told him how she had cheated on him while he was gone, leading to Jonathan getting mad and agreeing to her proposal of breaking up. Since then, Jonathan has not spoken a word to her and not even a wave. Eventually, during the last day of the term, the two met again and talked things out but still, Jonathan felt that it would be best if they would just stop talking nor seeing each other.
Marilyn Force
Marilyn has been like a sibling to Jonathan up until now. She's fun, creative and very independent and has helped Jonathan which made him so thankful of having her around.
Marilyn is the first person to give Jonathan a nickname which is, JonJon. Then it suddenly became his own nickname to most people he knows. Jonathan, however does not like being called by a nickname. Thingking that his name is not long enough to be actually given one. However, Marilyn always gets her way to Jonathan so he doesn't really bother insisting otherwise with her.
During the time when it was said that Marilyn died, Jonathan had always denied the facts to this. He has always thought that Marilyn was alive somewhere and that news about her isn't true. A couple months later then, she was found alive. Jonathan did manange to talk to her for awhile but then Marilyn knew nothing about her life as a witch. It hurts Jonathan that she never really knew him nor anyone from the wizarding world.
As time passed by, Marilyn then just finally remembered everything.
Louisa Carter
Louisa and Jonathan are not the kind of people that you would think would even be close the minute you hear them bicker from before. Jonathan met Louisa at Hogsmeade when she decided to sit with him one day at one of the store. Jonathan was waiting for someone, but as being polite he offered her a seat, while he was sketching on his sketchbook. Louisa, however, wanted to know what was inside the sketchpad, which ultimately ticked Jonathan off considering that they are not even that close for her to asking such things. And Jonathan does have tendencies where he tends to be selfish with his own stuffs, including the sketchpad.
Since then, the two haven't really been the best of friends. Every time they would spot each other or would just be in the same environment for as long as 5 minutes, they would have already bickered and have insulted each other.
The one thing that got them to stop fighting was when Louisa opened up a story about her father. At first, Jonathan didn't feel the significant as to why she was telling him about it but then in the end he realizes that all Louisa needed was a person to talk to. Thus, him listening to her and eventually giving her an advice. The witty banters between the two never stopped but at least, they both made some progress with their relationship.
During Jonathan's seventh year, when he broke up Kurumi, Louisa is one of the people who witnessed his vulnerability. As a result, he opened up to her about what happened and was really happy that Louisa tried her best to make him feel happy. She even insulted him just so to make him remind about the good old days when they were both like that. With this, the bond between the two just suddenly got closer and now, Jonathan trusts her a lot.
During the fall, Louisa surprised Jonathan with a white grand piano outside of school that made Jonathan really content despite of all the things that happened to him during the term. Irregardless of Jonathan's rule that no one is allowed to hear him play, he finally played in front of her.
As a thank you gift for Louisa and as well for her Head Girl badge news, Jonathan invited Louisa for an all expense paid trip to Spain. They both had an awesome time being together and discussing a lot of things about Hogwarts and whatnot.
Evelyn Flores
Truth be told, Jonathan hasn't really talked to Evelynnor have known her formally. However, Jonathan did have a big crush on her since the first day he came to Hogwarts and saw her at the common room with her friends. To Jonathan, Evelyn is really beautiful and had a lot of confidence, to add that all up people thought of her as a threat even though she's really sweet and nice to other.
The moment Jonathan knew she was Head Girl during her seventh year, he felt happy and even though they both haven't really sat down nor have talked with each other, Jonathan has a great deal of respect for the former Slytherin Head Girl.
Cass Prewett
Cass is the first girl to be ever be given by Jonathan a gift that something he had never bought. Jonathan had never been acquainted with her or whatsoever. They were not friends nor they have talked but they see each other around and they both were well aware of the basics, such as Jonathan is a year older than her and he is his junior.
Along the term, their Divination homework was to design a flower bouquet, with a thorough and well-thoughtout reason as to why you are choosing such flowers on the bouquet. At the end of the activity, they were told to give it to someone they like to fully complete the assignment. The bouquet was handed by Jonathan personally.
He did explain as to why he had given it to her because at the time, she's just confused why a random guy like him suddenly gave her a bouquet of flowers. The two dated for a short period of time. Jonathan was even invited at the Prewett's manor when Cass celebrated her birthday.
However during the following term, Jonathan became Kurumi's girlfriend. Upon hearing this, Cass felt cheated and Jonathan was scolded off by Heather because of this. Feeling sorry for what he had done to her feelings, Jonathan talked things out with Cass and explained to her, she did eventually understood.
The two are still friends but they just don't hangout.
Beezus Castell
Like Louisa, Beezus and Jonathan didn't exactly start of right as well. Beezus is just purely opinionated and to Jonathan, her arguments were always immature and irritating. It never really occured to Jonathan that the two would be friends. In fact, he swore that they never will.... eventually though, they did become friends.
Currently, Beezus calls Jonathan as his "fake brother" a nickname she came up with herself when she self proclaimed to be his little sister. Jonathan never minded this. Beezus had been nice to him despite their banters against each other.
Beezus will always be like a little sister to Jonathan no matter how old she grows. He is also thankful for her as she took time to give him gifts during the summer and during his birthday, although Jonathan thought that giving him Slytherin stuffs were a bit weird.
Leaving Hogwarts, Jonathan haven't spoken to Beezus however during the summer she did owl him to meet her at FF as he did promise her to buy her ice cream. The two both said their farewell and out-of-the-blew Beezus kissed him on the cheeks. Up until recently Jonathan doesn't know the reason behind her sudden kiss attack to him but to him, it was something he will always remember Beezus by. No matter how much they still bicker and fight with the simplest of things, Jonathan will always know that she has this soft side for him.
More will be added---
Behind the Scenes
Jonathan Kim is played by Kim Ki Bum "Key" of the Kpop boyband SHINee .
Baby Jonathan Kim is portrayed by Jung Yoogeun . He's a child star seen in SHINee's Hello Baby Show .
Jonathan is OCD but his creator isn't
Both the charrie and the creator doesn't have a "green thumb" (*sorry*)
Jonathan's personality is based from the behaviors of the 5 SHINee members:
Onew's teasing personality
JongHyun's neatness (not OCD though)
Key's straight-forward attitude
MinHo's fashion sense
Taemin's never ending smiles.
Ad blocker interference detected!
Wikia is a free-to-use site that makes money from advertising. We have a modified experience for viewers using ad blockers

Wikia is not accessible if you've made further modifications. Remove the custom ad blocker rule(s) and the page will load as expected.