Lilac Eventide is the Magical Familiar of Arwen Eventide, used to be she liked Nerida more than Arwen but Arwen has grown on her.
Over the years though Arwen has come to like Lilac allthough she still does not like cats.  Lilac has even allowed Arwen to take her to Hogwarts as long as she gets the special treats that she gets when she is extra good.
History
Haldir Eventide, found a family of colorful kittens at Colorful Magic, a pet store in Ireland, and got them for his daughters. Lilac got her name from the flower, Nerida named her, Arwen wanted to name her Brat, but Nerida made sure the little purple kitten wasnt named that!
Nerida tried to bring Lilac with her to Hogwarts in her sixth year but Lilac did not like getting into the cage, car, or even near the train station so she opted for taking Sky who was all for being brought to Hogwarts.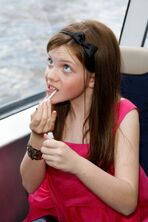 Arwen is able to get Lilac into the cage, then into the car as long as she holds him and the train station is a breeze as long as you put the jacket over the cage and then she is fine as soon as they get to Hogwarts.
Lilac is a purple and white cat, she has three kittenmates (siblings), Sky-a blue kitten, Rose-a pink/red kitten, Grass-a green kitten.
Ad blocker interference detected!
Wikia is a free-to-use site that makes money from advertising. We have a modified experience for viewers using ad blockers

Wikia is not accessible if you've made further modifications. Remove the custom ad blocker rule(s) and the page will load as expected.