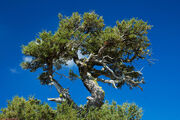 Appearance
It is usually taken to consist of three species, geographically separated. They are medium-sized to large trees growing to 20–45 metre tall, and up to 2 metre trunk diameter. The leaves are 10–30cm long, pinnate, with 3-6 pairs of leaflets, the terminal leaflet absent; each leaflet is 5–15cm long. The leaves are deciduous to semi-evergreen, falling shortly before the new foliage grows. The flowers are produced in loose inflorescences, each flower small, with five white to greenish-yellowish petals. The fruit is a pear-shaped five-valved capsule 8–20cm long, containing numerous winged seeds about 5–9cm long.
The three species are poorly defined biologically, in part because they hybridize freely when grown in proximity.

Properties
Mahogany wands are used in the magic of divination. Aspiration, desire, and victory are all key elements of this wood. Used while working with ancestors, old wisdom, and magical research.
Ad blocker interference detected!
Wikia is a free-to-use site that makes money from advertising. We have a modified experience for viewers using ad blockers

Wikia is not accessible if you've made further modifications. Remove the custom ad blocker rule(s) and the page will load as expected.