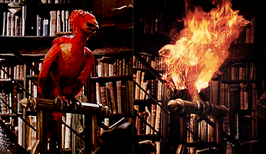 Classification: XXXX / Beast - Native in Egypt, India & China

The phoenix is a large swan-sized scarlet bird with red and gold plumage, along with a golden beak and talons, black eyes, and a tail as long as a peacock's. Its scarlet feathers glow faintly in darkness, while its golden tail feathers are hot to the touch.

Phoenixes will usually nest on mountain peaks and are gentle herbivores that are not known for fighting. As phoenixes approach their Burning Day they resemble a half-plucked turkey. Also, their eyes become dull, their feathers start to fall out, and it begins to make gagging noises. Then the bird suddenly bursts into flames only to rise from the ashes shortly after. In a number of days, they grow back to full size.

The phoenix gains a XXXX rating not because it is aggressive, but because very few wizards have ever succeeded in domesticating it. Phoenixes that have been domesticated are extremely loyal to their owners, and would depart to find their own paths if their owners die, rather than finding a new master.

Phoenix feathers are a powerful magical substance, and as such are an accepted wand core.
References
CoMC Class #1 - Phoenix - Term 16
Ad blocker interference detected!
Wikia is a free-to-use site that makes money from advertising. We have a modified experience for viewers using ad blockers

Wikia is not accessible if you've made further modifications. Remove the custom ad blocker rule(s) and the page will load as expected.