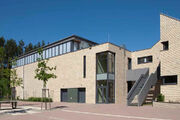 Since its founding in 2020, Primary Wizarding School (informally; PWS) has established itself as a magical school geared toward preparing the next generation for their entry to other schools, both wizarding and muggle. Children up to the age of 11 who exhibit magic or are descended from magical parents are welcome to attend.
The cirriculum is dedicated to helping children gain control of their own magic in the beginning while also educating on the culture within the muggle and wizarding community to help establish unity without breaking the International Statute of Secrecy. School hours run from 8:00 am through 6:00 pm, with classes ending promptly at 3:00 pm with activities running until closing time.
Squibs who attend the school after a certain age are then moved to classes geared towards alternative subjects and introduction to muggle technology that help make the transition for them to muggle schools easier. All students enrolled are kept in the system, enabling them to transfer to other locations without trouble.
Courses Covered
Arts & Crafts
Discipline & Balance (controlling Magic abilities)
Foreign Languages
Geography
Language Arts
Magical Games (including Gobstones & Quidditch)
Magical History
Magical Safety & Appreciation
Mathematics
Muggle-Wizard Connections
Music Theory
Nutrition
Physical Education
Quill Writing
Reading
Theory of Magic
World History
Campus Locations
Montreal, Quebec, Canada
Luxembourg, Luxembourg
Alexandria, Egypt
Cologne, Germany
Cannes, France - Primary Academy of Magic
La Paz, Bolivia
Edinburgh, Scotland - (main campus)
Hexagon Alley, London, UK - St. Woboldo's Primary School
Johannesburg, Gauteng, South Africa
Oslo, Norway
Naples, Italy
Madrid, Spain
St. Petersburg, Russia
Salem, Massachusetts, USA
Salem, Oregon, USA
Sydney, Australia
Wellington, New Zealand
Faculty & Staff
Enrolled Students
Infant class - (up to 3 year olds)
Nursery Class - (3 - 4 year olds)
Year R - (4 - 5 year olds)
Year 1 - (5 - 6 year olds)
Year 2 - (6 - 7 year olds)
Year 3 - (7 - 8 year olds)
Year 4 - (8 - 9 year olds)
Year 5 - (9 - 10 year olds)
Year 6 - (10 - 11 year olds)
- Updated to the 2095-96 school year. (May - August 2018)
Students are enrolled into the appropriate grade based on the student's age prior to first day of attendance (September 1st) as with other wizarding institutions.
Year 6 Students: January 1st - August 31st 2085 or September 1st - December 31st 2084
Year 5 Students: January 1st - August 31st 2086 or September 1st - December 31st 2085
Year 4 Students: January 1st - August 31st 2087 or September 1st - December 31st 2086
Year 3 Students: January 1st - August 31st 2088 or September 1st - December 31st 2087
Year 2 Students: January 1st - August 31st 2089 or September 1st - December 31st 2088
Year 1 Students: January 1st - August 31st 2090 or September 1st - December 31st 2089
Year R Students: January 1st - August 31st 2091 or September 1st - December 31st 2090
Nursery Class: January 1st - August 31st 2092 or September 1st - December 31st 2091
Graduates
Class of 2088
Class of 2089
Class of 2090
Class of 2091
Class of 2092
Class of 2093
Class of 2094
Class of 2095