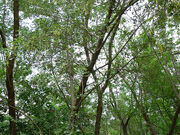 Appearance
Rosewood is a rounded, semi-evergreen tree with pinnate leaves made up of bright green leaflets with notched tips. Their heights vary between 30 and 100 ft. They have small pea-like flowers usually in yellow or apricot colours with rusty red veins which bloom in spring. Woody seed pods follow the blooms.

Properties
Rosewood is a strong, neutral wood that has no particular strengths or weaknesses, with the exception of one small quirk- it tends to function less effectively underwater.
Ad blocker interference detected!
Wikia is a free-to-use site that makes money from advertising. We have a modified experience for viewers using ad blockers

Wikia is not accessible if you've made further modifications. Remove the custom ad blocker rule(s) and the page will load as expected.