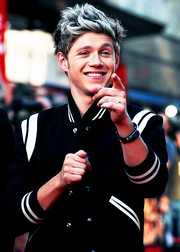 Tag Kildare was born on December 15th 2065. He was born in Mullinger, WestMeath, Ireland. He is the youngest in his family, Saxon, his 22 year old sister, being the oldest. Tag owns a black labrodor puppy, Chinx and currently lives with his sister Saxon in London, while his father Dom had decided on taking care of their home back in Ireland after his wife and Tag and Saxon's mother's death. He claims to be a leprechaun and unicorn. He is a very caring soul, and tries to help and defend and makes his friends feel better when they are in a bad mood or going through a difficult time. Because of his caring nature Tag has made several friends at Hogwarts, and through his friends at Hogwarts, has gotten to know his Hogwarts friends graduated siblings or family members.
Family and Friends
Ad blocker interference detected!
Wikia is a free-to-use site that makes money from advertising. We have a modified experience for viewers using ad blockers

Wikia is not accessible if you've made further modifications. Remove the custom ad blocker rule(s) and the page will load as expected.