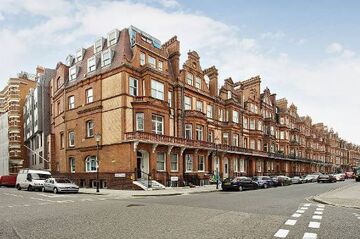 Opened in Spring 2079, the Tremaine at Covent Garden is a new experiment in Wizarding living. Gone are the days of rural Wizarding families content to live well away from Muggle areas, especially with the more recent upsurgence in the Wizarding population in the UK and the occurence of broad employment opportunities in areas of urban growth. The Tate Group, a long established Wizarding real estate development firm, has undertaken this recent venture into high end, reasonably priced apartments to see if a market exists for such facilities. Marketed specifically at young professionals, couples just starting out, and retirees, the Tremaine is centrally located in London, just steps away from excellent Muggle restaurants, pubs, and theaters, as well as Diagon Alley.
The magnficent new building boasts spacious open floor plans and private balconies for each residence, while the ground floor units have access to garden terraces. The building itself boasts the finest magical security in the UK, and offers an in-house pool and sauna that is available to all residents and their guests. Each unit is bespelled to be climate-controlled and self-cleaning, all at a price affordable to the average magical professional. All units have full Floo access, and the facility offers an on-site owlery and full concierge services.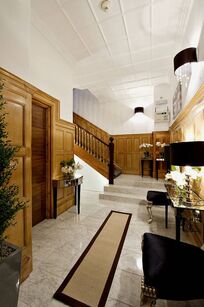 Additional Features
All units come standard with expandable closets and bookshelves, although additional features are available for exchange or addition.
Expanded kitchen and dining room
Charmed Anywhere Windows (tm)[1]
Breakfast Nook with Sun-Seekers (tm) Windows [2]
Additional master bath with hot tub
Additional master bath with personal sauna
Built-in Muggle Entertainment Center with Muggle-Magical technical services
Fireproofing for unusual pets/potions experiments
Monthly Rates
Terrace Apartments: Starting at 60G
One-Bedroom Apartments: 55G
Two-Bedroom Apartments: 70G
Penthouse: Starting at 90G

Furnished units available for an starting at an additional 5G per month.
Current Rentals
Interested parties should owl the Tate Group to schedule a tour of the building and to discuss financing options.
1c (Terrace, 2 Bedroom, 1.5 Bath)-
1d (Terrace, 2 Bedroom, 1.5 Bath)
2b (1 Bedroom, 1 Bath) - Maxim Leonov
4a (Attic Suite)
4b (Attic Suite)
References
Ad blocker interference detected!
Wikia is a free-to-use site that makes money from advertising. We have a modified experience for viewers using ad blockers

Wikia is not accessible if you've made further modifications. Remove the custom ad blocker rule(s) and the page will load as expected.