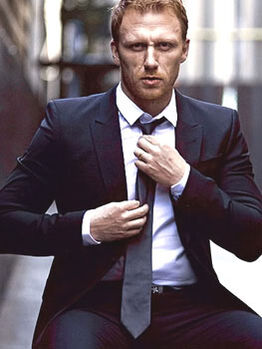 Tristan Christiansen served as the Ancient Runes Professor (2074-76 & 2078-79) at 
Hogwarts School of Witchcraft and Wizardry
.
► WHO ARE YOU?
NAME Tristan Christiansen
NICKNAME/ALIAS TC
GENDER Male
BIRTHDATE August 9th 2034
PLACE OF BIRTH Oslo, Norway
LIVES Oslo, Norway
BLOOD STATUS muggleborn
MARITAL STATUS widowed
WAND 14 Swishy Pine with Dragon fang core
EDUCATION Norse School Of Wizardry (2045-2052)
CURRENT POST Senior Undersecretary of the Ministry of Norway/Ancient Runes Professor at Hogwarts
FORMER OCCUPATIONS Department head of ancient studies at the Norwegian Ministry of Magic, Runes Professor at WU.
► MIRROR MIRROR ON THE WALL
HEIGHT 6'4
WEIGHT 190
BUILD Athletic
EYES Hazel
HAIR Ginger
GENERAL Tristan is always impeccably dressed. Always in a suit, though when he teaches he sometimes dawns a Viking costume belonging to his ancestors. He takes care of his skin with moistening unctions.

► PERSONALITY
Tristan is a VERY serious person. He does not get jokes, but he tends to be a nice person nonetheless.

► FAMILY
Father: Alfdis Christiansen
Mother: Rowyn Christiansen
Sister: Signy Christiansen
► HISTORY
Not much to say here. He was born to a wealthy muggle family who was scared at first of his magical abilities, but then got use to it. They weren't surprised when his school letter came. His sister who was an oops his parents made after he graduated, was his whole existence. She ended up not being a witch at all, and she went to a different school, and leading a completely different life. Tristan went to teach at the Wizarding University in Norway, to remain close to his little sister. While there he met the minister of Magic, and was offered a job in their ancient studies department. After taking that, he went was quickly promoted to Senior Undersecretary, but has declined to run for Minister twice now. As a favor to the British ministry, at the time led by Lord Borr, he agreed to find a suitable runes professor. When he couldn't find someone to meet his standards (i.e. being perfect at runes and being ginger) he decided to teach himself.
Ad blocker interference detected!
Wikia is a free-to-use site that makes money from advertising. We have a modified experience for viewers using ad blockers

Wikia is not accessible if you've made further modifications. Remove the custom ad blocker rule(s) and the page will load as expected.