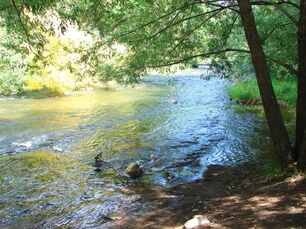 The Otter River curves sinuously through the countryside near Ottery St. Catchpole, a sleepy town in Devon. The slow-moving river drifts through village, forest, and countryside alike, its sun-dappled surface hiding deep pockets of murky water and shale-bottomed shallow spots. The children in the village have a favored swimming hole in summer, and fishermen of all calibers enjoy plumbing the Otter's depths from the bank.

Uncle Fitch's Campground and Water Craft Rentals is a Wizard-owned establishment just up the river from Ottery St. Catchpole that caters to a mixed crowd of both Muggle and Wizarding clientele. Throughout the year, the devoted outdoorsmen, adventurous wizarding families, and the newbie campers alike set up camp in the forests and fields near the river. The scent of wood smoke from their campfires permeates the air over the river. Fitch Crombie is happy to rent out canoes and kayaks to the intrepid, although the river is lazy enough that very few challenges will present themselves along the way.
Ad blocker interference detected!
Wikia is a free-to-use site that makes money from advertising. We have a modified experience for viewers using ad blockers

Wikia is not accessible if you've made further modifications. Remove the custom ad blocker rule(s) and the page will load as expected.