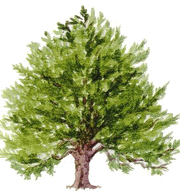 Appearance
Willows all have abundant watery bark, sap which is heavily charged with salicylic acid, soft, usually pliant, tough wood, slender branches, and large, fibrous, often stoloniferous roots. The roots are remarkable for their toughness, size, and tenacity to life, and roots readily grow from aerial parts of the plant.
The leaves are typically elongated but may also be round to oval, frequently with a serrated margin. Most species are deciduous; semi-evergreen willows with coriaceous leaves are rare. All the buds are lateral; no absolutely terminal bud is ever formed. The buds are covered by a single scale, enclosing at its base two minute opposite buds, alternately arranged, with two small, opposite, scale-like leaves. This first pair soon fall, and the later leaves are alternately arranged. The leaves are simple, feather-veined, and typically linear-lanceolate. Usually they are serrate, rounded at base, acute or acuminate. The leaf petioles are short, the stipules often very conspicuous, looking like tiny round leaves and sometimes remaining for half the summer. On some species, however, they are small, inconspicuous, and fugacious (soon falling). In colour the leaves show a great variety of greens, ranging from yellowish to bluish. Willows are dioecious with male and female flowers appearing as catkins on different plants; the catkins are produced early in the spring, often before the leaves, or as the new leaves open.

Properties
The Willow is regarded as feminine and is closely associated with the moon and water. It is seen as a melancholic tree representing sadness, it is believed sitting underneath it will soothe the emotions and banish depression and sadness. In addition it was associated to love, healing, rhythms, and the gaining of eloquence, inspiration, growth and skills. It is said to protect from enchantment.
Ad blocker interference detected!
Wikia is a free-to-use site that makes money from advertising. We have a modified experience for viewers using ad blockers

Wikia is not accessible if you've made further modifications. Remove the custom ad blocker rule(s) and the page will load as expected.