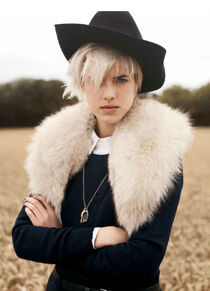 Zaria Gwendolyn Dainsie (born 6 June 2033) served as the Professor for the subjects; Divination (2054-55), Astronomy (2055-57) and Care of Magical Creatures (2057-2061) at 
Hogwarts School of Witchcraft and Wizardry
. She also served as Gryffindor's Head of House from 2056 until 2067.
Born in Australia she moved to Scotland at the age of 6 with her family, but still spent a lot of time back home in Australia, in effect perserving her accent. At age 11 in 2044 she was accepted into Hogwarts where she was sorted into Gryffindor. Between school and teaching she studied Care of Magical creatures, and played semi-professional Quidditch.
She admires loyalty and is pretty laid back, but can be strict when needed. Also fairly athletic and pretty strong, she lived on and ran her own Magical Creature Sanctuary whilst still playing Quidditch on a regular basis.
OOC:
Model portrayer is Agyness Deyn. Zaria Dainsie is a character portrayed by Dainsie .
Ad blocker interference detected!
Wikia is a free-to-use site that makes money from advertising. We have a modified experience for viewers using ad blockers

Wikia is not accessible if you've made further modifications. Remove the custom ad blocker rule(s) and the page will load as expected.